The Marco Island anchorage was very pleasant, especially after the experience of the day before.  It was a cold night and the sunrise this morning was beautiful.  The channel leading from the anchorage out to the gulf had shallow water and was very crooked due to the shifting sand.  The seas close into shore were smaller than the day before and the heading put us parallel to the shore all the way to Sanibel Island. 
Ever since the northern keys, we have had to dodge lobster traps which have lines that can tangle up your prop and require a trip under the boat to cut loose.  Not something we want to do when we are in a hurry to get to our home port.  It reminds us of a similar occurrence in the Chesapeake Bay with crab traps.  
We were able to put up the jib sail all the way and it gave a speed boost.  We passed under the bridge that is used for cars to reach Sanibel which is followed by mile marker "1" of the ICW on the Florida west coast.  This section of the ICW goes north between Sanibel and Pine Island.  The wind died down and we saw pelicans feeding and dolphin playing in the shallow waters.  We anchored across from the Cabbage Key Inn and Restaurant.  We had sailed here for lunch as part of our ASA sailing classes.  We got here just in time for sundowners.  We toasted to a great trip in the "BlueBreeze"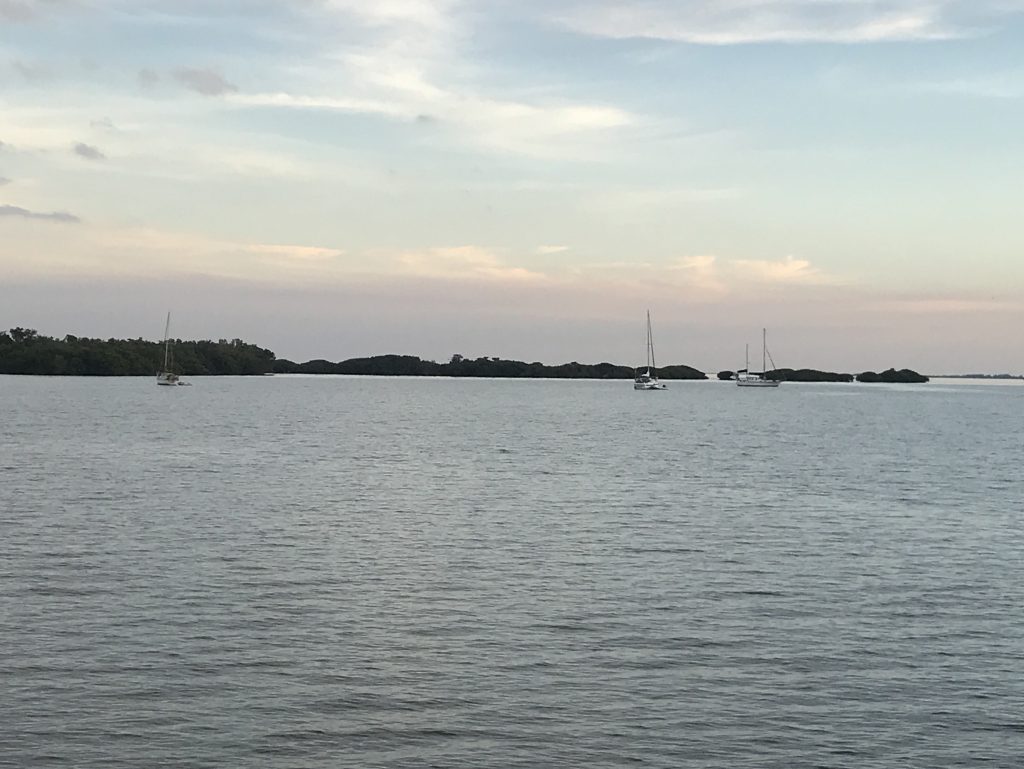 Other boats anchored at Useppa Island.
.