On a regular basis, we keep a check on where we are on usage of fuel, water, waste, and propane (for cooking).  Just like with the RV, it is important to understand where these items can be obtained or how we will need to rid the waste; all in a timely fashion.  Although we departed Annapolis with what we believed were 2 full tanks of propane (we have a 5 gal. capacity vs. 10 with the coach), we thought it appeared to have been eliminated.  Another lesson learned; a safety valve makes it appear as such.  We were relieved!
Mount Pleasant is just north of Charleston.  After departing our dockage, we traveled through Charleston Harbor.  The weather today was the nicest we have experienced of our trip so far.  Just yesterday, we were wearing several layers but today, we're down to shirtsleeves!  Each day, dolphins excite us with their presence.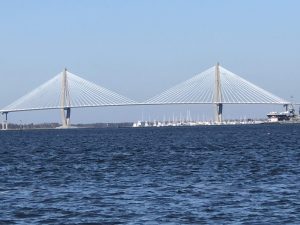 Such an interesting bridge in the harbor that a picture had to capture it for the blog.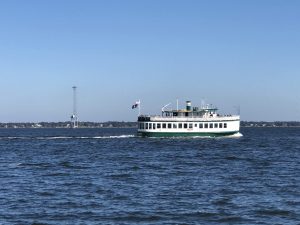 The ferry above takes visitor to Fort Sumter, the National monument and site of two battles of the Civil War and where first shots were fired.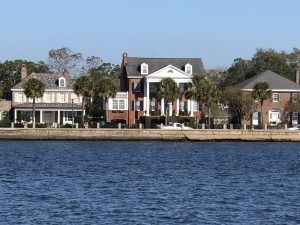 As with many Southern Cities, many beautiful homes can be seen from our boat perspective.
After crossing the harbor, the ICW lead us on the Stono , Dawho, and Edisto Rivers..
We dropped anchor tonight at Raccoon Island, north of Beaufort.  We enjoyed mahi for supper and Ann prepared a meatloaf for tomorrow night.