Frigid cold last night (high 30s) but at least we were plugged in for heat.  Readers may be tired of hearing of the cold but we are really tired of experiencing it.  Not sure of arrangements for tonight so decide it might be a good idea to obtain fuel and water prior to departure.  A rather late one (11:00 a.m.) on purpose as we wait for the tide to come in.  As one proceeds along the ICW, the tide can have a clear affect on water depth negatively if a very low tide or height of bridge clearance also negatively, if a very high tide.  In fact, when we came through Jeremy Creek from the Leland Oil Co. Marina to the intersection with the ICW, there was a sailboat that had run aground earlier but thankfully, got off shortly before we passed.  This area is always shallow and seeing this vessel's situation reminded us to use care.
Today is full sun which produces a good feeling even if the temperature is cold.  Travels on the ICW today was on the Harbor River and passed along a number of islands.  We continue to travel on a waterway with beautiful homes and long docks.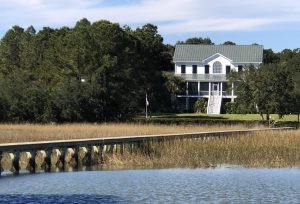 Today we traveled only 32 nautical miles.  Rather than going into the congested area around Charleston, we decided to stay at the Toler's Cove Marina which is just north of Charleston.  It really worked out as they offered rides to the Publix supermarket and West Marine.  When we returned from shopping, the sun was setting and it was one of the most beautiful sunsets experienced in a long time.