Departed our anchorage a bit late due to morning fog.  Thankfully, the fog burned off quickly and we enjoyed a very nice cruise passing by Hilton Head and on to Savannah.  That is, until the course became a little tricky and went too shallow.  It wasn't bad and with a little bit of maneuvering, we were able to get off and proceeded on.  We arrive at Thunderbolt Marina in Savannah catching up with friends from VT, Linda and Nile Schneider docked at the same marina.  In fact, they were docked ahead of us.
Our VT friend's sailboat in the foreground and BlueBreeze in the background.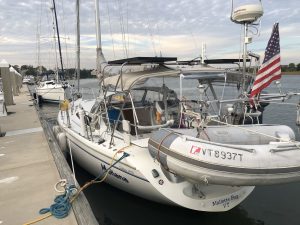 After showers and laundry, Nile and Linda are our first visitors on the BlueBreeze.  We all have lots of adventures to share but we have dinner plans with Dave Morgan and family.  Dave has been a family friend for over 50 years.  How wonderful it was catching up with Dave and meeting his family!   Hope to keep this connection going.  Supper at Tubby's Tank House was fabulous, as well. After we return, we enjoy another visit from Linda and Nile (they're so far away).  We discuss plans for the following day as the ICW directs us to cruise through 'Hell Gate'; the shallowest portion of the ICW.