We awoke to a beautiful sunny day.  As decided last night, we would not be in too big a hurry to depart as we needed the tide to be on the rise as we prepared to go  thru the notorious Hell Gate portion of the ICW.  Our plan is to enjoy a combined breakfast with our neighbors, our sailing friends from VT on SV Manana.  One of the unique services of the Thunderbolt Marina is delivery of Krispy Kreme glazed doughnuts; an addition to the much healthier side of scrambled eggs, sausage, strawberries, and coffee.  BlueBreeze follows our much more experienced ICW cruisers.
Following SV Manana the a 65′ fixed bridge.  It never looks like we will obtain clearance.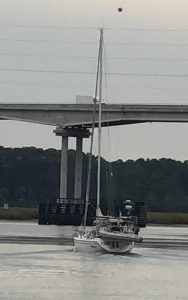 Both vessels took on 'Hell Gate' at a slower than usual pace.  We envisioned a much narrower path.  Nonetheless, there was not much area of depth.  There was one point that appeared we might drag bottom.  It was good the tide was rising and we had not entered earlier.
We ended our day dropping anchor at Kilkenny Creek along with Nile and Linda in Manana, just past the marina. Our arrival was early enough to allow for sundowners and and a beautiful sunset.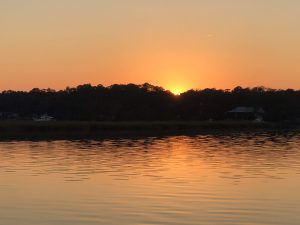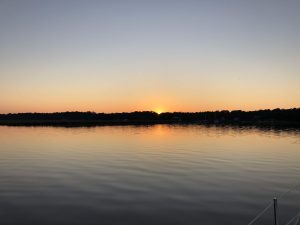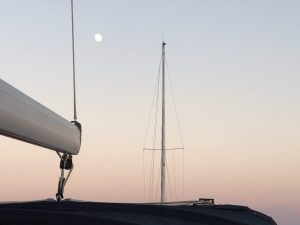 The moon cooperated as well.  After supper, Linda and Nile came over to BlueBreeze for an evening of card playing; the game of 'Manipulation'.  While the BlueBreeze is experiencing weak batteries, our visitors decided to depart on the early side allowing us to shut down lights for some savings.
New batteries, solar energy, and two new heads are top on the list for purchase when we return to FL at our home port.  BlueBreeze is otherwise in great shape and we are very excited to have her.