We woke up to a cold windy, but sunny morning.  After a quick breakfast, we pulled up the anchor and headed south on the ICW on what would become our longest day of travel so far.  We traveled about 59 nautical miles. Along the way we went thru 5 bridges including 3 fixed, 1 railroad bridge and a swing bridge that was operated by the Marine Corp as it went thru Camp Lejeune, NC.  Along the way we saw many houses and businesses that had been damaged by Hurricane Florence.  At Swansboro there was a Marina name Caspers  and the docks  were totally destroyed by the hurricane Florence.  The manager said that they were rebuilding for the next season of boaters.  Dolphins swam by our boat all along the way.  They would appear unexpectedly so it was hard to get a picture of them but it did brighten our day. It was one of our coldest and windiest days on the ICW. We were so happy to get to Swan Port Marina, connect to  electricity and engage the heater. They too had been heavily damaged by Hurricane Florence.  After happy hour and a nice meal of super nachos made with ground pork we settled into a quiet evening.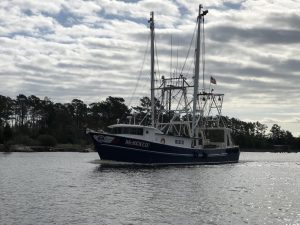 This was a shrimp boat that we passed along the way.  Love those shrimp!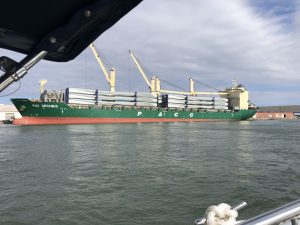 This was a container ship that was in the port near Beaufort, NC.  It contained a number of blades for the giant wind generators.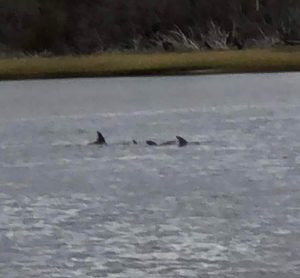 This was a pod of dolphins, one of many that we saw today.