After a night at the Carolina Beach Yacht Club and Marina, we fueled up and headed south.  Our morning routine is to get up about 7 AM, have breakfast which we rotate thru various egg dishes, cereal, oatmeal, granola and yogurt.  Since we are trying to make time, we have lunch on the way and due to the cold, we usually have hot soup.  We start the day with hot coffee and tea in thermos cups and drink it at mid morning.  As most of you know, we like to cook and eat good meals so dinner is a highlight, preceded by happy hour.  We have had fresh seafood along the way and hope to have more as we move along the coast.  It was an overcast day but at least it was warm so I wore shorts.  After we anchored and night fell, it started to rain and the temperature started to drop into the low 50's.  It has been an interesting experience seeing the east coast from the ICW instead of from the RV as we have many times.  Along the water, there are an amazing number of very large, beautiful homes and condos.  They all have docks some going up to 400 yards in length so they can reach the water.  There are an incredible number of people fishing from boats or from their docks.  We even saw a tiny house which was painted a funky color and had matching chairs on their dock.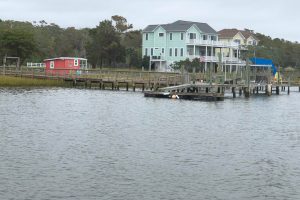 A friend has asked how life on the boat compares to the coach.  It feels somewhat similar only larger.  However, the obvious is that we don't just pull over or turnaround to see something.  Also, this trip is fast paced in that we are very much in a hurry to return to FL, prepare for the Christmas holiday, and then turn around to fly to VT awaiting our fourth grandchild.  For that reason, we don't stay at any location more than one night and have increased our mileage.  On our return to VT next spring, we will definitely spend days touring.  Even at this pace, each day feels very satisfying seeing a new perspective and a sailing day is very special!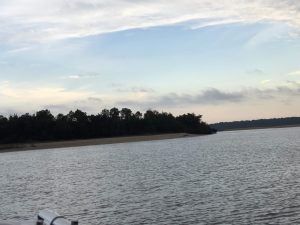 Anchorage tonight; very peaceful and quiet.  Happy to be in the Lowcountry!