We anchored with two other boats at Calabash Creek last night.  It was very shallow getting into the anchorage but once in, it was very pleasant.  Jack prepared a great start to our day with some wonderful french toast for our breakfast this morning.   The weather got colder as the day went on which required layers to be added in order to stay warm.  First stop on our trip today was to pull over for a pump out.  In RV terms that equates to dumping (waste).  It never did rain but we also never saw the sun.  For lunch, we have been having soup and crackers and on these cold days.  It really warms you up!  The only wildlife that we saw today was a lonely dolphin and two blackbird hitchhikers.  Eight bridges were passed under, three requiring a radio request to the bridge tender.  It still creates anxiety to pass under a fixed bridge.  The mast clearance is 61 feet plus an antenna.  Most fixed bridges are 65′ but then there is the tide.  Tonight we expect it to get down to the upper 40's.  We passed only one sailboat but were passed by at least 7 power boats.  We are anchored with two of the power boats at this anchorage.  Our location is just north of Georgetown, SC.  We expect to be in Charleston in three days.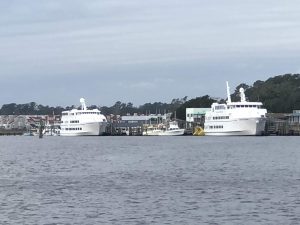 These were two casino ships that we saw along the ICW.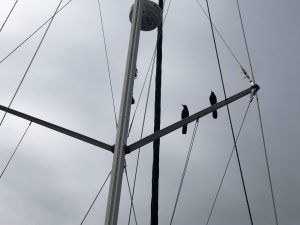 We picked up a couple of hitchhikers along the way.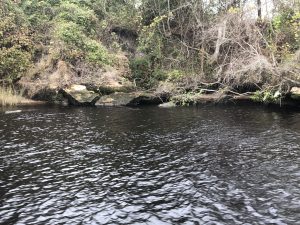 The section of the ICW that we went through today is called the Rock Pile due to the fact that the channel is very narrow and there are rock ledges along the edges of the channel.  It is suggested to not pass or go on it with commercial traffic; especially at low tide.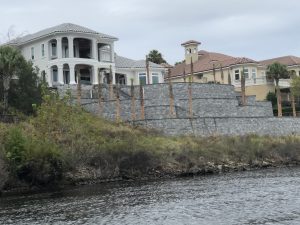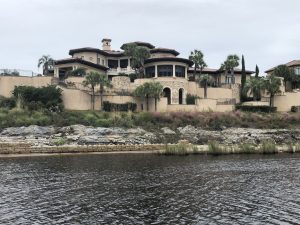 The ICW is lined all along the way with very large and expensive houses of which these are two examples.  The one on the right has the South Carolina palm tree as part of the landscaping.  Both are examples of dollars spent to protect against water damage.