Thoroughfare Creek was a nice protected anchorage but it got down into the low 50's during the night and a light rain early morning so we awoke to a cold, damp and cloudy morning.  We headed out and it became colder with greater winds as the day went on.  Today's journey took us past rice fields and Georgetown, SC.  In this area of the Lowcountry, we have in the past, visited BrookGreen Gardens which is a real delight, reasonable admission, and worth the time to visit anytime of the year for the enjoyment of gardens and sculpture, https://www.brookgreen.org   In RV days, we stayed at Huntington Beach State Park across the highway from the gardens and located on the beach.
At Georgetown, the ICW runs through the Winyah Bay.  In warmer weather, the Bay would have been a great sail but today was miserable.  Thankfully, the ICW took a turn into a narrow path that was quite beautiful, the Tom Yarkey Wildlife Center.  Our wildlife viewing today was another pod of dolphins swimming by our boat.  We also enjoyed viewing a lot of South Carolina Lowcountry in this area.
After such a frigid, ugly day, we were so happy to get to the Leland Oil Co Marina in McClellanville, SC.  It was necessary to plan our arrival while there continued to be the high tide effect as it can be very difficult to get through Jeremy Creek with such shallow waters.  While pleased to be here, it didn't turn out to be a marina to write home about but we did have an electrical connection that would provide us heat tonight.  That was all that was needed.  Thank goodness because the expectation was for temperatures to drop into the high 30s.  Came prepared to wear multiple layers.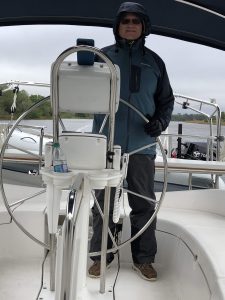 All the others boats surrounding us were fishing boats.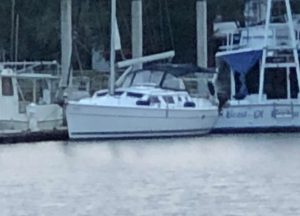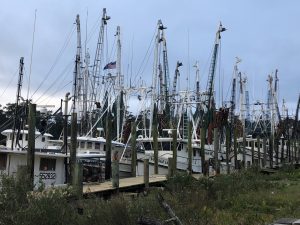 We walked around a portion of this very small community.  After not having been off the boat for awhile, the ground beneath felt a little strange.  We walked to the local seafood market and in front were about 10 shrimp boats lined up. We bought some scallops and shrimp for dinner that were delicious.
.