After staying an extra day in Jekyll Island and a stormy night, we woke up to thick fog.   Although we were late in departing while waiting for clearance, the sun shown brightly making us believe the fog would lift soon.  After farewells to Linda and Nile, we took off slowly.  This experience reminded us of traveling during a VT winter in what is referred to as a white-out.  Our new airhorn was at the ready when a sailboat crossed our bow too close for comfort!  Additionally, we wore our life jackets.  Thankfully,  upon reaching Cumberland Island, the fog cleared into a mix of sun and clouds.
The Schneiders were checking out this trawler.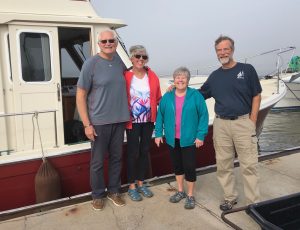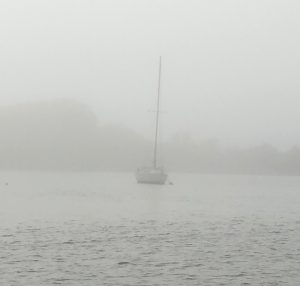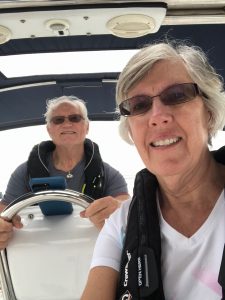 After St. Mary's Inlet and making our way into FL (6th state), Ann called her mother who lives in Lake Placid, FL, knowing she was anxiously awaiting our arrival back into the state.    We considered stopping at Amelia Island Yacht Basin where we looked forward to our second visitor to the BlueBreeze, Jim Barnes.  The inlet to this marina was too shallow as well as narrow and it was low tide when approaching.  We decided to go on to the Jacksonville City Free Dock located just north of the St. John River.  Jim had indicated it would not be far for him to meet us.  Due to our late start in the morning, we did not arrive until very close to dark.  There was one space remaining.  Due to the strong current, our boat had to be turned around and brought into the dock sideways.  Those on the dock assisting with lines, were impressed and we were rather proud, as well.  You gotta love the bow thuster!  Unfortunately, meeting up with  Cuz Jim didn't work out. We will have to catch up with Jim and Valerie on the return trip.  While missing Jim, we did enjoy an early lights out still nursing bum batteries.
We thank our friend Linda Schneider for making us aware of shrimp cavitation which provides a rather loud snap, crackle, pop sound unique to this dockage.  Google it!
Today was our most spectacular sight of several dolphins swimming together and one raised it's tail flapping on the water.  We can appreciate seeing these beautiful creatures every day but have given up trying to capture a photo.
We couldn't get over seeing wildlife and barren landscape so very close to Jacksonville, FL.