After spending a very cold night at anchor near NASA Causeway Bridge, we departed early in order to get to Stuart, FL by Thursday night.   By leaving early we had our longest mileage day yet at 66 miles.  Unfortunately, it didn't warm up all day so when we arrived at the Vero Beach City Marina, after plugging in, we turned on the heat and I made chicken soup and the combo warm us up nicely.
Once again we saw many dolphin along the way but it is nearly impossible to photograph them because they surface then dive and you never know where they will be next.  The only photo of the day was this chair sitting on what looked to be a deserted island.  It was a place that I would love to sit, sun myself and read a good book.  Apparently somebody else had a similar idea.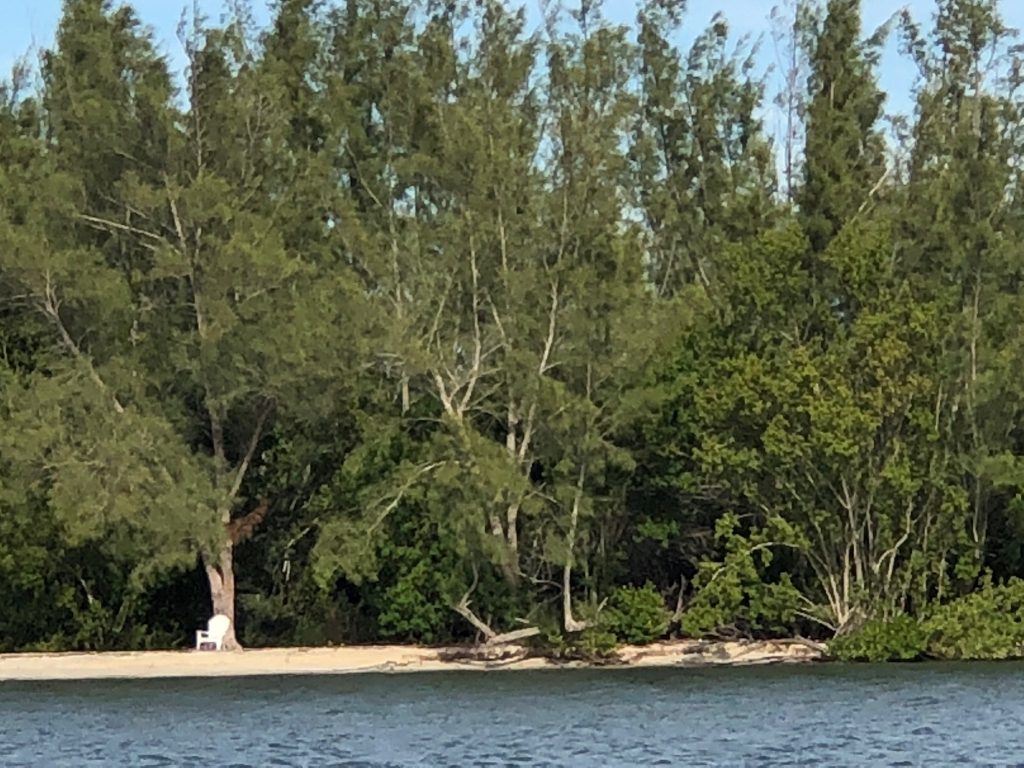 We had visited Nile and Linda Schneider when they stayed at this marina.  Because it is so well run and sailor friendly, people tend to stay a while and referred to it as "Velcro Beach".
Tne description below is all about the app that we use in our travel on the waterways:
For navigation we use the Raymarine chart plotter which I described in an earlier post but it is limited with no internet connection since it is a 2004 technology.  The other very important navigational tool that we use is Aquamaps which is an app that runs on iPads as well as Android devices.  Once it is loaded, we purchased the most up to date NOAA marine charts and they are downloaded into the app.  There are a lot of charts to choose from and ours cover the US, Canada and the upper Caribbean.  There is a companion database called "Active Captain" which can be loaded thru a connection to my account in Active Captain.  Both the Active Captain data and charts are continually updated.  The Active Captain database includes data and reviews on marina's, anchorages and other types of useful boating information.  We were able to upload a track from Bob Sherer who also writes an ICW Crusing Guide.  We followed his track all the way from Annapolis Maryland.  Additionally, we use Aquamaps on an iPad Pro and also on my iPhone so we can navigate from either.